Books: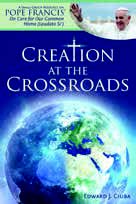 Creation at the Crossroads
Small-Group Books
With twelve sessions on Pope Francis' encyclical on ecology, this resource is designed for use in parishes, small groups, and college campus ministries. Emphasizing love as a motivating force, Francis calls on all to do their part to protect the environment in order to improve the lives of the poor today and guarantee a better world for future generations. Through Scripture, prayer, faith-sharing questions, and practical ideas for protecting and caring for the environment and people, this resource will move small groups to faith-based action.
Topic:

Faith and Work, Social Justice, Spirituality

Who It's For:

Individuals, Small Groups, Parish-Wide

Parish Need:

Evangelization, Catholic Social Teachings

Liturgical Seasons:

Any time

Duration:

12 sessions

Languages Available:

English

Author:

Edward J. Ciuba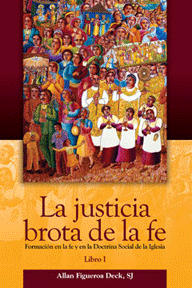 La justicia brota de la fe: Formación en la Doctrina Social
Small-Group Books
La justicia brota de la fe es un programa de formación para hispanos/latinos sobre el compromiso social basado en una conexión íntima entre la fe y el amor hacia el prójimo, lo que el Papa Benedicto XVI llama "caridad social." Esta obra promueve la Nueva Evangelización y el desarrollo espiritual de todos los que anhelan profundizar la práctica de su fe en el ambiente desafiante de hoy. La justicia brota de la fe: Formación en la fe y en la Doctrina Social de la Iglesia, Libro 1 explora cómo el encuentro con Jesucristo y su Reino de amor y justicia, y el compromiso de seguirlo, se encarnan en nuestra vida diaria. Acerca de los autores El Padre Jesuita Allan Figueroa Deck es reconocido como pastoralista internacional con muchos años de experiencia como formador en la fe y promotor de la justicia. La Dra. Adele González colaboró en la obra con sus talentos sobresalientes de redactora, educadora religiosa y guía espiritual.
Topic:

Social Justice, Spanish

Who It's For:

Small Groups, Parish-Wide, Diocese-Wide

Parish Need:

Catholic Social Teachings

Liturgical Seasons:

Any time

Duration:

12 sessions books

Languages Available:

Spanish

Author:

Rev. Allan Figueroa Deck, SJ